"How To Start a Business, grow it, scale it and take it Global"!

Finally YOU can start your business, and if you already have started but you feel stuck Don't Need To Worry – This training will show you 7 steps formula which you can apply to get instant results!

Free Online Training Starts In
In This 2 hours 'No Cost' Online Training You Will Discover...
How to start and where to start getting ready for  your own successful business and take it global…

How to discover your purpose – extend and it create a big global vision

How to empower your mind and make sure your vision stands into a healthy big mind to be able to face any challenge on the way. Remember everything is in the mind

????

Here you will learn how to work smart not hard!

Why it is important for you to get visibility and create global exposure – why many women don't do it or don't know how to do it (the power of Mere exposure effect)

Do you feel you are a great creator but not able to do the right marketing for your products? Creating a product is easy but for successfully launching a product you need to follow some steps. Are you ready?

The breakthrough strategy, how to write your e-book within 48 hours and create a blueprint around it!

The secrets of bringing more visibility and media exposure by sharing your story, your expertise and position yourself as an expert!

The power of public speaking and the strategy of booking stages (public speaking is not something you can learn from the books; you need to practice it)

And that's only just the beginning….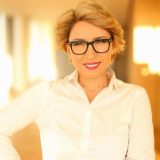 Introducing Your Presenter:
" I love finding women who have not found their purpose yet, and they are desperate to take themselves in a new wonderful journey.  You can start that journey NOW! In my courses we study entrepreneurship!
My mission is to help Women Find Their Purpose, Gain Financial Freedom, And Motivate Others to Do the Same!
Imagine What Your Life Would Be In One Year From Now, If You Were To Implement These Strategies That I will be Sharing With You?
I wish I'd had when I first started: helpful advice and training on how to build your first website, how to speak on global stages, create products and build an online business.
Together, on this one of a kind training we will work together to finally solve this and give you "The 7 steps formula" to ensure you get more growth – quickly, easily and affordably.
I cannot wait to see you on the training and show you this system to ensure you don't procrastinate anymore but you start NOW and grow your vision global!
Global Woman Business School © 2021. All Rights Reserved
Privacy Policy
Global Woman Business School (Part of Global Woman Ltd)
Company number 09727799
Registered office address 4-6 Canfield Place, London, England, England, NW6 3BT
This site is not a part of the Facebook website or Facebook Inc. Additionally, This site is NOT endorsed by Facebook in any way.FACEBOOK is a trademark of FACEBOOK, Inc.
DISCLAIMER: WHERE SPECIFIC INCOME FIGURES ARE USED, AND ATTRIBUTED TO AN INDIVIDUAL OR BUSINESS, THOSE PERSONS OR BUSINESSES HAVE EARNED THAT AMOUNT. THERE IS NO ASSURANCE YOU'LL DO AS WELL. IF YOU RELY UPON OUR FIGURES; YOU MUST ACCEPT THE RISK OF NOT DOING AS WELL. MONETARY AND INCOME RESULTS ARE BASED ON MANY FACTORS. WE HAVE NO WAY OF KNOWING HOW WELL YOU WILL DO, AS WE DO NOT KNOW YOU, YOUR BACKGROUND, YOUR WORK ETHIC, OR YOUR BUSINESS SKILLS OR PRACTICES. THEREFORE WE DO NOT GUARANTEE OR IMPLY THAT YOU WILL GET RICH, THAT YOU WILL DO AS WELL, OR MAKE ANY MONEY AT ALL. THERE IS NO ASSURANCE YOU'LL DO AS WELL. IF YOU RELY UPON OUR FIGURES; YOU MUST ACCEPT THE RISK OF NOT DOING AS WELL. YOU AGREE THAT OUR COMPANY IS NOT RESPONSIBLE FOR THE SUCCESS OR FAILURE OF YOUR BUSINESS DECISIONS RELATING TO ANY INFORMATION PRESENTED BY OUR COMPANY, OR OUR COMPANY PRODUCTS OR SERVICES. TESTIMONIALS AND CLAIMS THAT THIS DISCLAIMER REFERS TO WILL BE BE INDICATED BY, AND MARKED WITH AN *.